PART 1: Red Army of Passion

Other than what you saw in Part 1, there are also some goodies and pre-opening performance prepared by sponsors...



Samsung is one of the main sponsor...



Everyone can be torchbearer...



Dragon...



Recycle performance by Coca-Cola...

The opening ceremony starts at about 2:15pm...

PART 2: Flame of Passion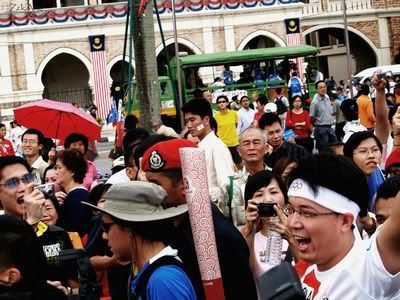 Mr. Wang Ji (China students' representative) marching to his torch change point with the torch before opening ceremony starts...



Olympic Council of Malaysia (OCM) President, YAM Tunku Tan Sri Imran ibni Tuanku Ja'afar giving his speech...



BOCOG Vice President, Mr. Jiang Xiaoyu giving his speech...



The Protector of Flame(PoF) team carrying the torch and lantern contains the Olympic flame...



The PoF team looks so tough...



Olympic flame burning in Malaysia...



The first torch...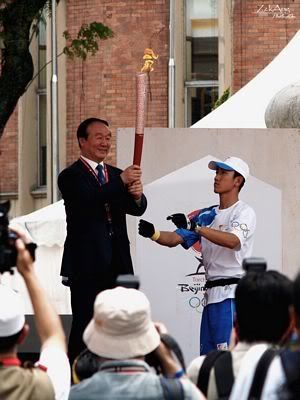 Mr. Jiang Xiaoyu holding the torch...



Chinese Ambassador to Malaysia, His Excellency Cheng Yonghua holding the torch...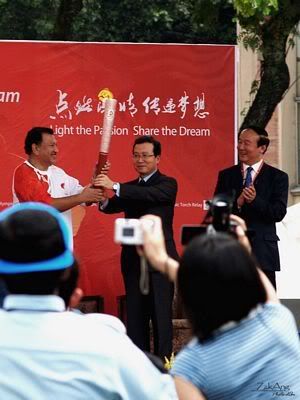 H. E. Cheng Yonghua passing the torch to Tunku Imran...



Tunku Imran proudly holding the torch...



Beijing 2008 Olympic Torch Relay officially inaugurated by Kuala Lumpur City Mayor, Dato' Abdul Hakim bin Borhan...



KL Mayor looking at the flame...



KL Mayor passing the torch to first torchbearer, Tunku Imran...

Tomorrow I will post up the relay of this event...

PART 3: Relay of Passion