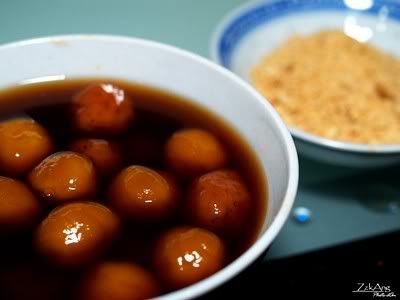 Every year on 21st or 22nd December, every chinese family will celebrate
DongZhi Festival 冬至
. Traditionally, this festival was celebrated for the end of the shortest daylight and welcomed the longer daylight in the following days, as daylight was very important for farmers...
The Dongzhi Festival 冬至 or Winter Solstice Festival is one of the most important festivals celebrated by the Chinese and other East Asians during the Dongzhi solar term on or around December 22 when sunshine is weakest and daylight shortest.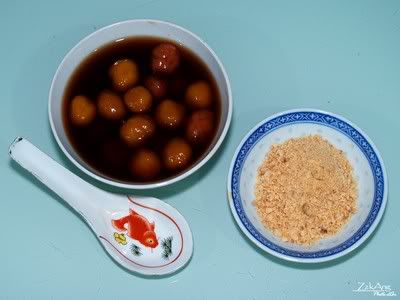 TangYuan 汤圆 served grinded peanut...
The origins of this festival can be traced back to the Yin and Yang philosophy of balance and harmony in the cosmos. After this celebration, there will be days with longer daylight hours and therefore an increase in positive energy flowing in. The philosophical significance of this is symbolized by the I Ching hexagram fù 復 (Returning).
Traditionally, the Dongzhi Festival 冬至
is also a time for the family to get together. One activity that occurs during these get togethers (especially in the southern parts of China and in Chinese communities overseas) is the making and eating of TangYuan 汤圆 or balls of glutinuous rice, which symbolize reunion. TangYuan 汤圆 are made of glutinuous rice flour and sometimes brightly coloured. Each family member receives at least one large TangYuan 汤圆 in addition to several small ones. The flour balls may be plain or stuffed. They are cooked in a sweet soup or savoury broth with both the ball and the soup/broth served in one bowl.

(Source:
Wikipedia.com
)
This year, my mother had a new recipe for TangYuan 汤圆. Instead of pink and white TangYuan 汤圆 served with plain sweet soup every year before this, the TangYuan 汤圆 has changed colour to yellow (pumpkin) and red (
dragon fruit
) served with
LuoHanGuo 罗汉果
soup. But after boiled, the colour of the TangYuan 汤圆 had changed to
LuoHanGuo 罗汉果
soup' colour as the soup absorbed to the surface of TangYuan 汤圆. The TangYuan 汤圆 will be tastier if eaten with grinded peanut... :D
TangYuan 汤圆 with peanut...